Red Book Book Signings


E x c i t i n g A u t h o r E v e n t
Donald Palmisano
Discussion & Booksigning
Tuesday November 27, 5:30-7 PM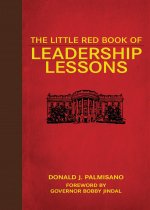 Donald Palmisano grew up over a restaurant and bar in the New Orleans' Irish Channel. His insatiable curiosity, love of reading, and military service led to the highest echelon of American medicine leadership, serving as President of the American Medical Association in 2003-2004.
Dr. Palmisano's latest collection of quotes from antiquity to the present reflects leadership that promotes liberty. He personally interviewed many of the present day leaders quoted.
In the weeks following the presidential election, the question of what truly makes a good leader is on everyone's mind. Anyone can claim to be a leader in times of calm, but crisis situations separate the true visionaries from the false ones. Recent events in global affairs make it increasingly apparent that nations must cultivate and encourage true leaders and eschew false ones if they hope to survive.
Fortunately, effective leadership is a skill that can be taught, especially through the study of exemplary figures of the past. The Little Red Book of Leadership Lessons provides crucial advice for those who aspire to become effective leaders in any position.
If you cannot attend any of our events - Call or email us to order your signed 1st editions.

Garden District Book Shop
2727 Prytania St (corner of Washington Ave)
phone: 504-895-2266
email: GDKrewe@aol.com