Interviews
September 16, 2008
12:10 p.m. CST (1:10 PM EST)
WAPI, Birmingham

September 19, 2008
Joey Reynolds Show in-studio in New York City at 10:40 p.m.
www.wor710.com
"ACCORDING TO THE LATEST ARBITRON RATINGS WE'RE NUMBER #1 IN THE NEW YORK TRI-STATE AREA!
We're heard Live in the New York Tri-State area from midnight to 1 AM and then we're carried by 100 stations nationally from 1 AM to 5 AM. We have huge national ratings - about 4 million weekly listeners -- and are heard at various times - Prime Time in Hawaii, for instance -- by a large audience."
Saturday, Sept. 20, 2008
Listen to Podcast of Dr. Palmisano on Joey Reynolds Show broadcast September 20, 2008
http://wor710.com/pages/48797.php
Saturday, Sept. 20, 2008
Breaking News: Fox and Friends TV in-studio
New York Saturday, Sept 20, 7:15 a.m EDT to discuss the book, leadership, and the presidential candidates.
Youtube Video
Monday, Sept. 22, 2008
7:25 a.m. CDT
WWL TV interview by Sally Ann Roberts about "On Leadership..."

Wednesday Sept. 24, 2008
3:00 p.m. CDT
WWL Radio, John "Spud" McConnell Show
Podcast at: http://wwl.com/pages/1050632.php
Start at 11:24 in audio file for the beginning of Palmisano interview

Monday Sept. 29, 2008
Syndicated Brad Davis Show 8:20 am EST. This is based in CT but it goes through the tri-state area.
Monday, Sept. 29, 2008 10 a.m. EST
Maritime Morning
This station is heard across Eastern Canada and parts of the Northeast USA.
September 30, 2008 10:00 a.m. Central
San Antonio, Texas
Drexel Kleber, host
Kicking the Anthill with Drexel Kleber
AM 930 KLUP
www.KLUP.com
www.KickingTheAnthill.com
September 30,2008 8:10 AM EDT
The Bill and Joel Morning Show
WDUN News Talk 550
Jacobs Media Corporation
Gainesville GA 30501
October 1, 2008
NPR: Baton Rouge - Jim Engster Show WRKF Radio FM 9:00-10:00 a.m. Central Time
Podcast
October 9, 2008 12 p.m. CST/1 pm EST
30 min. phone interview
KRUU
Speaking Freely with Dennis Raimondi

October 10, 2008
Dr. Alvin Augustus Jones Show
www.dralvinjones.com
The Paradise Radio Network
WCBQ-AM 1340 WHNC-AM 890
"Where World Leaders & Thinkers Come To Chat"
Hear the October 10, 2008 interview of Dr. Palmisano at:
http://www.dralvinjones.com/content/01 Donald Palmisano.wma

October 21, 2008
Above Politics Show in United Kingdom
Listen to MP3 online or download Podcast
http://podcast.abovetopsecret.com/atsmix_3097.mp3
Or go to: http://www.theabovepoliticsshow.com/ and click on show 36.
Palmisano interview is on the last 30 minutes of show.
November 3, 2008
NPR Miami - WLRN Radio Miami (South Florida's NPR) 1:00 p.m.-2 p.m. Eastern Time
January 2009
XM Satellite Radio REACHMD Podcast
The mp3 and transcript are also available at:
http://www.reachmd.com/xmsegment.aspx?sid=4002
February 18, 2009
Joey Reynolds Show on WOR 710 AM with 4 million listeners: Dr. Palmisano returned to New York City for a repeat interview broadcast the night of February 18, 2009. To listen to the Podcast or download it, go to:
Listen:
http://podcast.wor710.com/wor/1593527.mp3
Download:
http://www.wor710.com/episode_download.php?contentType=36&contentId=3481206
Discussion of leadership, New Orleans post-Katrina, Congress, stimulus bill, health information technology, patient privacy and medical record confidentiality. Dr. Palmisano starts speaking at about 14 minutes into the show of the 4-5 a.m. hour after Joey's monologue. Check it out. Joey is a wonderful host and a member of the Rock and Roll Hall of Fame.

Photos from Joey Reynolds Show Visit

March 19, 2009
Driving with Dr. Mattie - WGSO 990 AM

Dr. Madelaine Feldman welcomes Dr. Donald Palmisano to "Driving with Dr. Mattie." Dr. Palmisano, surgeon, attorney, past president of the American Medical Association and author of the book, On Leadership - Essential Principles for Success discusses the qualities a leader should have when taking us through the "crisis" known as health care reform. Patient privacy, one payer health systems, ethics, and the doctor-patient relationship are a few of the topics discussed. www.onleadership.us - website for On Leadership.

Download: http://podcast.wgso.com/drivingWithDrMattie/DRMATTIE031909.mp3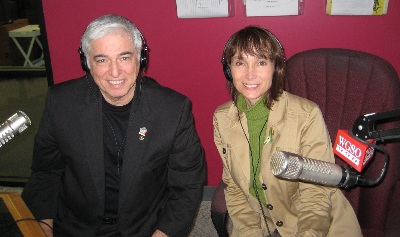 Dr. Palmisano and Dr. Mattie Photo