Reviews
From Publishers Weekly
On Leadership:
Essential Principles for Success
Donald Palmisano. Skyhorse (Norton, dist.),
$24.95 (244p) ISBN 978-1-602-39321-9

Palmisano, an attorney and physician, uses historical and modern-day leadership examples—both good and bad—to show that effective leadership can be taught. He focuses on characteristics he believes to be the essential elements of true leadership—persistence, creativity, decisiveness, skillful utilization of information technology—and he offers a set of easy-to-follow steps to becoming a successful leader based on principles gleaned from personal experiences and the leadership failures and successes of prominent individuals (Rudy Giuliani) and events (Hurricane Katrina). Particularly helpful are the chapters on various forms of communication—written, with media, in meetings and public speaking—and interpersonal relationships, the latter centered on learning to listen, dealing with people in top positions and selecting members of a team. Each chapter includes a Lessons Learned section in which key points are distilled for easy reference. Additional topics include using the past as a foundation for success, courage and truth. Informative and well-written, this book will appeal to managers at all levels looking to become effective leaders and will be especially helpful to those just entering the management arena.(Sept.)

Copyright © Reed Business Information, a division of Reed Elsevier Inc. All rights reserved.
* Final published hardcover price of "On Leadership - Essential Principles for Success" is $16.95
Two Five Star Ratings Posted at Amazon September 25, 2008 for "On Leadership - Essential Principles for Success"
*****Great Lessons, September 25, 2008
Robert R McMillan
Dr. Palmisano's book is a must read. It is well written with lessons for just about everyone to the stories of others prevented me from putting down the book.
Almost every page caused me to reflect on my efforts to lead and manage. His personal stories add to the value of his efforts to get across the essential dimensions of leadership, and his reference to the leadership qualities of others added to my interest.
From young people in college to those in leadership positions in the real world, the book would be a welcome addition. In addition, those responsible for leadership in not-for-profits would also benefit from Dr. Palmisano's book.
*****Leadership lessons from a leader, September 25, 2008
By S. Fink
It is rare to find a general book on leadership written by a doctor. But as Dr. Donald Palmisano, a New Orleans native, knows all too well, lessons about leadership, resiliency and preparedness come not only from experiences in political governance, business and military service but also from the ranks of health care workers. Palmisano describes the lack of needed medical supplies and means of communications he faced as a young doctor responding to Hurricane Betsy in New Orleans. "During the four plus decades that have elapsed since Hurricane Betsy, I've found very little change in the city's ability to respond effectively in a major disaster," he laments. Hurricane Katrina offered ample evidence for that point, and more recently Hurricanes Ike and Gustav have highlighted persistent American vulnerabilities. But while these examples underscore the need for more effective leadership, Palmisano, a former America Medical Association president, avoids handwringing. He focuses far more on examples of positive leadership--both historical and modern--than on failures. ON LEADERSHIP's engaging stories and profiles are the product of a lifetime of leadership experience at the intersection of medicine, law, business and academia. Readers have much to gain from Palmisano's pearls.
***** 5 Star Review posted at Amazon October 1, 2008
Rare Leadership Skills
By Dr. Stuart Gitlow (Providence, RI United States)
Leaders can be divided for convenience into two groups: those who lead simply because they want to have the experience, and those who lead because others want them in the position. The latter group can be divided further between those who simply get the job done and those who embrace the opportunity. Dr. Palmisano is from this last subdivision, wherein he not only provides superb leadership but also encourages others to follow in his footsteps. A rare breed indeed in a day where politicians are actively attempting to get around term limits, as a truly worthy leader would be surrounded by those he or she had trained as a replacement. The subtitle of this book is "Essential Principles for Success." Who better to learn these principles from than an individual less concerned with showing off what worked for him because he truly wishes to share and educate as to those methods that will work for his readers?
Five star review at Amazon: Superb reading., December 13, 2008
By James Brown
Superb reading. This book is an important, if not critical, analysis and presentation of what is sorely needed to address the problems of our present financial, social, and economic turmoil. A must read!
New Orleans Magazine Book Review October 2008
On Leadership
October 1, 2008 12:52 AM
BY BROBSON LUTZ, M.D.

Dr. Palmisano's Prescription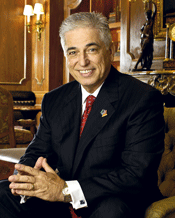 Louisiana medicine is fertile breeding ground for the American Medical Association, a 161-year-old organization dedicated to the art and science of medicine. In the last 12 years, both Dr. Daniel "Stormy" Johnson and Dr. Donald J. Palmisano skyrocketed from leadership positions in the Louisiana State Medical Society to become AMA presidents.

Palmisano tells what makes him tick in the newly published book On Leadership – Essential Principles for Success. At Southern high schools "leadership" is too often a code word describing football players who weren't all that sharp with the books. But don't let the Dale Carnegie-sounding title turn you off. It is a spellbinding read to be enjoyed by the general public as well as members of the medical profession.
The jacket blurbs by, among others, a former U.S. Senate Majority Leader and the 2007 King of Carnival (both physicians themselves), are an instant tease for the reader. Former Senator and physician Bill Frist quips that "the book is an invaluable tool to improve a management style or inspire others" while Dr. Ronald French dubs the book a "magnificent outpouring of the truths learned by the careful observations of a questioning mind."

Palmisano was born in the old Mercy Hospital on Annunciation Street and lived his early years above his grandparents' Caronna's Restaurant and Bar at 2032 Magazine St. His mother was born on the same block. Beginning as a motorcycle patrolman, his father rose through NOPD ranks.
Palmisano's anecdotes cover his youth, medical school training, military service, surgical practice, medical politics on the national level and everything that happened along the way. The book is punctuated with what he terms "pithy quotes" from prolific reading that has fueled his life.
Earlier in his career Palmisano shook dust out of his brain by flying out of Lakefront Airport in a T-34 military trainer. He flew acrobatics including snap rolls and chandelles over Eastern New Orleans, patterned after the antics of pet flying squirrels he had caught in his youth. As a gadgeteer par excellence, he was the first physician I know who adapted computers into his daily life. An award-winning photographer, he always has his camera. I have never seen him without one.
The book is worth its cover price if only for its bevy of quotations, including Dante and former New Orleans Mayor Victor Schiro. As with other physicians with military background, Palmisano is quick to quote great generals such as George Patton on how essential it is for a leader to be decisive, a trait he deemed to be in short supply after Hurricane Katrina on the local, state and national levels.

"In any moment of decision, the best thing you can do is the right thing, the next best thing is the wrong thing and the worst thing you can do is nothing," is a quote in the book from former President Theodore Roosevelt. Palmisano identifies "fear of being blamed for a bad outcome" as the root cause of an inability to make a decision. As we saw after Katrina, indecisiveness cost lives and promoted disorder. The lesson is that indecision and delays beget failure.
The art of communication rates an entire chapter, and Palmisano emerges as a proponent of the active voice in the written word, rare among physicians. The Times-Picayune reporter John Pope has remarked to me many times that the medical profession seems addicted to the passive voice in writing. Palmisano tells how to deal with the press, an activity that sends chills down the spines of many physicians. My favorite of his hints is the well known "rule of three" – have three things that you want to get across and always work one of these three points into the response to any question.

He recounts Tulane surgeon Dr. Oscar Creech saying that after two nights in the library, a student knows more than 90 percent of the people in the world on a topic but that knowledge doesn't equate with experience. The lesson: Do your homework.
When he was an Air Force surgeon, Palmisano wanted some advice on a deteriorating patient so he called Dr. Alton Ochsner Sr., only to be told he wasn't available. Palmisano called back and had the operator page Ochsner. He answered, listened to the scenario and told Palmisano to hang up and operate immediately. The patient lived. The lesson: Persistence pays, but don't be afraid to change course and continue on.
His chapter on interpersonal relations describes a three-pronged approach to improve communications on any level – parent and child, spouse and spouse, and friend and business relationships of any sort. First, listen with full attention. Second, express understanding of the problem as expressed by the other party. Third, ask this question: "What can I do to help?" The lesson: Being an active listener is important.

A former professor of medicine at Tulane said, "Surgeons use statistics like a drunk uses a lamppost – more for support than illumination." This isn't true for Palmisano, who gives an excellent insight into how even peer-reviewed medical publications can be more opinion than fact. He teases the reader with such phrases as "inappropriate comparisons," "improper sampling," "lack of randomness of sample" and "the difference between relative and absolute risk reduction." His enthusiasm for statistics took me online to order an updated text on the topic.
Palmisano shares how he became very discouraged during his first year of medical school. His father encouraged him to continue. "Do your homework, have courage – and don't give up." We talked about this at length a couple of years ago because I had the same feelings and for the same reason. We had both always studied independently and by ourselves. Yet an important part of that first year of medical school is learning from your classmates and working with them. We both discovered this during medical school in different ways.

The easy route for physicians on a medical school faculty is to let the "basic science guys" run everything from the admissions committee to the anatomy course. Shame on the lazy medical school faculty who bestow three hats on a single non-physician colleague to avoid the scut work involved with medical school admissions, anatomy course teaching and directing student affairs.

While not written as a textbook, Palmisano's book should be incorporated into the curriculum for medical schools. From the basic science professor's standpoint, it's easier to force students to memorize a chock-a-block of trivial facts, measured by computer-graded multiple choice questions. Doing so damages two factors important to the art of medicine – individual thinking and creativity.

For more information on Palmisano's book, check the Web site at www.onleadership.us.

Excerpts from On Leadership
Essential Principles for Success by Donald Palmisano
"In 1967 and 1968 I was chief resident of surgery at Tulane and on a rotation to a charity hospital outside of New Orleans. I noticed the hospital's lack of an external defibrillator. I asked the hospital administrator to buy one. He refused…and said he planned to use the money to buy a photocopier. A couple of months later the administrator clutched his chest and fell to the floor [while Palmisano along with a visiting professor, other residents, and medical students were making rounds]. He was unresponsive. We immediately began cardiopulmonary resuscitation. He opened his eyes and looked at us. Because we had no external defibrillator, we had to carry him to the operating room, continuing resuscitation en route, open his chest, and attempt defibrillation with internal paddles directly to the heart. Unfortunately, he died."
Five Star Review posted at Amazon on October 13, 2008

Leadership and Life Lessons from a Louisiana Leader, October 13, 2008
By Steven D. Hanks (Farmington, CT United States)

Dr. Palmisano has encapsulated the essence of leadership in an easy to read, inspirational narrative that is reminiscent of his speeches. Sprinkled throughout are relevant quotations that Dr. Palmisano then highlights with entertaining anecdotes, some historical and some personal. This is a great, quick read for anyone interested in leadership, but particularly for anyone involved in the healthcare field, and especially those who have had the opportunity to cross paths with Dr. Palmisano.

On Leadership – Essential Principles for Success by Donald J. Palmisano. September 2008, $16.95 Hardcover. Skyhorse Publishing New York (distributed by W.W. Norton), www.onleadership.us.
Another 5 Star Review at Amazon posted Nov 2, 2008
Great lessons from the trenches of life , November 2, 2008
By
Marcy Zwelling "Zdoc"
(Long Beach, California) - See all my reviews

Dr. Palmisano is an inspiration in print much like he is in person. His book is a quick read filled with lovely stories.... real stories... to teach even those of us with few skills the "how to" of leadership. Probably the best part of the book is knowing that the advice comes from someone with an incredible passion and dedication to life. I found myself practicing the skills immediately and watching them work. If only our politicians understood the distinction between politics and leadership ... and step up. Come to think of it, I believe I'll send a copy to my Congressman.

Marcy Zwelling, MD FACEP
Article about Dr. Palmisano's speech and book signing from AMA Alliance

See photo and article at Barnes and Noble record breaking book signing in AMA Alliance Leader's Digest:

1. Welcome to Leader's Digest!

Welcome to Leader's Digest. This AMA Alliance leadership resource is just for you, our national, state, and county leaders, as a way to recognize your volunteer efforts and allow you to share your experience and knowledge with your fellow leaders across the country. The bi-monthly publication is designed to help you excel in your leadership role. It offers the resources and support you need to be a success—to help you plan and implement projects of real value for the family of medicine and for your community. Your ideas and comments are always welcome. Email us at rosetta.gervasi@ama-assn.org.

Leadership Expert Donald Palmisano Talks the Talk and Walks the Walk

By Rosetta Gervasi

In any moment of decision the best thing you can do is the right thing, the next best thing is the wrong thing, and the worst thing you can do is nothing.
~Donald J. Palmisano, MD, JD, Paraphrasing President Theodore Roosevelt

Dr. Palmisano and his wife Robin at a book signing at Barnes & Noble

When Dr. Donald J. Palmisano was a small boy, his parents decided that the gang activity in their neighborhood was a negative influence on his impressionable mind, so for a time, they sent him off to boarding school. There, the lonely seven-year old who found himself far from home consoled himself by immersing himself in what became a life-long reading obsession.

"There weren't all that many books in the library of that small school," he says. "But I think I must have read every one. When the 'brother' (monk) came by to do a bed check, I would be quiet, but after he walked by, I would use my small flash light and read under the covers 'til all hours."

That innate spirit to know everything he can about a topic before he talks about it—to do his own research—is one of the components of Palmisano's perspective on what it means to be an effective leader. "A good leader is fully informed," he says. "If he doesn't have what he needs to make a decision, he goes out and gets the missing information—he finds more facts, brings in the expert and decides for himself."


Walking the Walk

Palmisano should know. He has been talking the leadership talk and walking the leadership walk for many years and continues to be a leader on many fronts. He served as president of the Louisiana Medical Society from 1984 to 1985, was elected to the AMA Board of Trustees in 1996, served as AMA Secretary-Treasurer in 2001, and was AMA president in 2003-2004. Today, Palmisano continues his leadership roles by serving on the Board of Governors of the National Patient Safety Foundation, the Board of Governors of Tulane University Health Sciences Center, the editorial board of the Journal of Patient Safety and the Board of Governors of the Doctor's Company.
Book review at ManageSmarter Website
On Leadership
April 10, 2009
Essential Principles for Success (Skyhorse Publishing, $16.95)

In his new business self-help book On Leadership, Donald J. Palmisano presents the reader with actual examples from which a leader-in-training can learn a valuable lesson about being a successful leader.

With a forward by Bobby Jindal, governor of Louisiana, On Leadership is geared toward teaching the reader to become a true leader, which is not just the person who is placed in charge, but the one who takes action when necessary. The book covers both good and bad leadership examples, citing Nelson Mandela's battle with apartheid as positive and the response to the crisis with Hurricane Katrina as negative. The author tells the reader what lessons there are to be learned from the examples of good leadership and also what can be improved from the bad ones.

Each chapter begins with a quote. The first is by General George S. Patton, Jr.; "Be willing to make decisions. That's the most important quality in a good leader. Don't fall victim to what I call the 'ready-aim-aim-aim-aim syndrome.' You must be ready to fire." Chapter one, called "The antithesis of leadership," then gets right into the real-life examples, going into an anecdote about Hurricane Katrina.

To make On Leadership clearer and easier to understand, there are separate headings within every chapter. At the end of each chapter is a list of lessons learned, which sums up the points covered in that particular section making it easy to flip through the key ideas from each part of the book. In addition, the author includes a few pages of color photographs and cartoons relating to some of the issues discussed in the book.

Palmisano is a former president of the American Medical association and a keynote speaker on leadership.
--— Kassia Shiskoff
A 5 Star Review at Amazon for 2nd Edition
5.0 out of 5 stars
Must Read Primer For Any Aspiring Leader, May 6, 2011
This review is from: On Leadership: Essential Principles for Business, Political, and Personal Success (Paperback)
Dr. Palmisano has written an excellent primer on the character traits essential for anyone aspiring to leadership. These lessons were learned and refined in life. Though the author is a physician, these lessons are universally applicable to all walks of life. Moreover, any student of history will enjoy the anecdotes and insights contained in this book. The book chronicles instances of how one man's decisive actions can make a difference or his inaction lead to disaster. I wholeheartedly recommend "On Leadership" by Dr. Donald J. Palmisano.
5.0 out of 5 stars
Best Damm Book on Leadership, May 10, 2011
This review is from: On Leadership: Essential Principles for Business, Political, and Personal Success (Paperback)
This book was very strong in its first edition. The new edition still makes it a must read for anyone wanting to learn how to lead in crisis. Donald adds two chapters that show, in his practical manner, how we must lead when at the brink. As a New Orleans resident he has seen it all. His words are very straight forward and with focus. Very good read with very practical solutions.
Review in National Review Online by the President of the Galen Institute.
Former American Medical Assocation president Donald Palmisano, M.D., knows a thing or two about leadership, and the updated and amplified version of his book could not be more appropriate for our times. On Leadership: Essential Principles for Business, Political and Personal Success serves as an indispensible guide with lessons from successful leaders whose decisions have a sweeping impact on nations and from those whose decisions save a single life.
The book is a mixture of true stories, including some of the author's own, that exemplify the essential characteristics of a leader: courage, persistence, decisiveness, communication, creativity, and doing your homework.
We can only conclude that the outcome of Obamacare would have been very different had Dr. Palmisano still been in charge of the AMA when it gave its support to that legislation at a crucial time in return for . . . nothing, really.
This law will be terrible for physicians and worse for patients. Sixty percent of physicians said the new law will force them to stop serving or restrict services to certain categories of patients, especially in Medicare and Medicaid, and an alarming number of doctors are planning to leave the practice of medicine as soon as they can.
The experienced and invaluable leadership in the medical profession will be lost as physicians are forced to turn over more and more of their authority to government officials dictating the practice of medicine. Most say they will leave medicine rather than subject their patients to medical decisions made by bureaucrats rather than physicians.
Dr. Palmisano, a practicing physician in New Orleans, gives an example of why medical care in America has been the best in the world, and why we want experienced and decisive doctors in charge.
In his chapter on persistence, he quotes Winston Churchill from the dark days of World War II saying, "Never give in — never, never, never, in nothing great or small, large or petty, give in."
Dr. Palmisano reports on working with another surgeon to try to save a 23-year-old man badly injured in an automobile accident. After significant ER intervention, the patient's heart stopped beating. Let him tell the story:
External cardiac compression was done, but it did not restore the heartbeat. The anesthesiologist shook his head and said, "There is nothing more we can do. We must pronounce him dead."

At that moment, I refused to believe that this young man was dead. Everything that was supposed to be done was done. I pulled back the drapes covering the patient's chest, splashed antiseptic on his chest and cut it open. I reached for his lifeless heart and began to squeeze it between my hands. I told the anesthesiologist to keep squeezing the breathing bag filled with oxygen. I could not leave the room without saying to myself that EVERYTHING possible had been done. Suddenly, between squeezes on the heart, I felt it start beating!
The patient recovered and went on to become an accomplished engineer, sending post cards to Dr. Palmisano from all over the world.
Persistence pays off.
Dr. Palmisano and the many stories he reports will inspire you and give you hope for America, from courageous and persistent politicians like Rep. Paul Ryan and Sen. Marco Rubio to examples of failures in leadership by "Brownie" during Hurricane Katrina. The book is a wealth of life lessons from Dr. Palmisano's extensive experience — from public speaking and debate prep to his love of technology and how it can extend our expertise.
Each chapter ends with lessons learned. The lessons in the concluding chapter about "Emerging leaders in a time of crisis" seem most relevant: "It's time for a new generation of leaders," he declares, and he believes that the American people are ready.
Review by Richard Reece, MD of Medinnovation
Sunday, September 4, 2011

Book Review: On Leadership: Essential Principles for Business, Political, and Personal Success, 2nd edition with two new chapters, by Donald J. Palmisano,MD, JD, Skyhorse Publishing, New York, New York, 2011, paperback, 302 pages, $12.95
I will pull no punches. I like this book for personal reasons. Doctor Donald J. Palmisano is a man after my own heart. He writes with balance. He writes with civility. He writes with utter candor. He uses apt quotes to introduce his 18 chapters, he cites my favorite authors, and his philosophy mirrors mine. As frosting on the cake, he uses humor in the form of colorful cartoons. What's not to like?

I might add, he wrote the book while suffering the personal losses, severe damage of his home, and the destruction of his medical practice from Hurricane Katrina. He adds two chapters on leaders emerging from Katrina.

The son of policeman, Don rose to become a well-known surgeon and then president of the AMA in 2003-2004. He was recognized then and now as one of the most effective presidents the AMA ever had, due in no small part due to his reputation as a brilliant and eloquent speaker, particularly on the need for tort reform.

Today he is president and founder of Intrepid Resources, Inc., a medical risk manager company, that gives advice and counsel on patient safety, risk management, and leadership.

This is not primarily a medical or political book, although he makes his position clear when he says of political candidates, "Ask if the candidates are for a government run micromanaged medial system with rationing or for a system that expands insurance coverage through tax credits, consumer choice, and market enhancements."

Instead what Doctor Palmisano writes about the enduring verities of leadership – homework, courage, persistence, decisiveness, communication, creativity, and effective interpersonal relationships.

To these, I would add three things:

One - Responsiveness. In my personal relationship with him, he has always responded immediately and helpfully.

Two - Concreteness. In his book in each chapter, he gives concrete examples of heroes and leaders he admires.

Three – Progressiveness. He is a big fan and user of the Internet, and of putting Information Technology to work. He posts regularly at DJPNEWS and www.onleadership. US.

Some 2500 medical leaders read his blog, and he welcomes calls to 504-455-5895 to ask his opinion or his advice. You can purchase his book on amazon.com for $11.01.

Tweet: Donald J. Palmisano, MD, JD, has written a splendid book, On Leadership, which details leadership qualities.
August 2012
Praise for ON LEADERSHIP by editor of CONNECTICUT MEDICINE, a peer-reviewed journal of the CONNECTICUT STATE MEDICAL SOCIETY
August 2012, Volume 76, NO. 7, page 445
"Fascinating stories...Lessons learned from the examples of successful and unsuccessful leadership are included after each chapter and are excellent, and well worth reading and re-reading.
...Read this book. Be a leader."